Quicklinks

ISCHGL-NEWS
Currently in operation
5. Dez. 11
14 Open lifts
36 Slopes


Ski map
Click here for the slopeplans
Weather
Curious to know more weather? Click here!


Nice to know


Wetten, dass..?-fans joined Gottschalk's big farewell show in Ischgl on last saturday. For a spectacular bet out in the open of the Playstation Vita Ischgl Snowpark, Gottschalk and his team were connected live to the Idalp in Ischgl.

Bet out on Youtube



Welcome to the official newsletter of the World Architect Masters 2012.


To keep you up to date with all the WAM open and ACFx Conference news we will be providing you with regular updates on all the latest developments regarding our sponsors, keynote speakers and their firms as well as our media partners around the world and of course the venue itself, Ischgl in Austria.
We hope you find this publication informative and look forward to seeing you in Ischgl on the 2nd of February 2012.

Your ap35-Team



ACFx-Conference


Latest confirmed speakers:
Assaf Biderman is the Associate Director of the SENSEable City Laboratory, a research group that explores the "real- time city" by studying the increasing deployment of sensors and networked hand-held electronics, as well as their relationship to the built environment.
Assaf Biderman on Youtube


Frederike Vos | Co-founder of "The Hub Amsterdam"
Frederike is a change agent. She is an entrepreneur driven by sustainable change, and co-founded The Hub Amsterdam, a space that supports social and eco-entrepreneurs in realizing their ideas.
Blog Frederike Vos

Two new mediapartners... and counting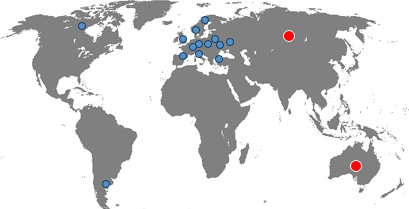 ap35 is very proud to present two new media partners for our WAM Open 2012: on the one hand, Community Design Magazine, issued by the Tsinghua University School of Architecture, and on the other hand the Australian media platform indesignlive.com with their magazine Design Quarterly (DQ). This, of course, doesn't mean that ap35 has stopped looking for further media partnerships: the globe is our playing field!

More News



Videoclips


Interesting videos of our confirmed speakers can be viewed here: