Conference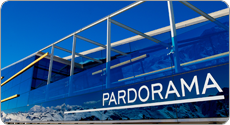 Follow exciting presentations and generate discussions. Internalise topics, which influence the architecture industry, and get inspiration from the entire revue. This is what the WAM Conference "ACF – Architecture Corporate Foresight" offers its participants.
The conference takes place in the conference hall of the restaurant Pardorama in Ischgl. This new building is located on the 2,620 meter high Ischgler Pardatschgrat. The steel structure of the new restaurant weighs about 1,300 tons. The glass facade is some 1,000 m² wide. The self-service restaurant seats 450 and the full-service restaurant provides 220 seats. Since the 2005-2006 winter season, the convention area can host events with up to 200 participants.
ACF - Architecture Corporate Foresight
"Formal beauty will vanish behind features which make an area conducive for networked use". Daring prophecies, like this by American network designer Adam Greenfield, can have both frightening and stimulating effects on architects. This is because the artistic aspect of their work would, given such an assertion, be pushed far into the background. But at the same time, detachment from formal design-oriented usage-creations, could also have the effect of bringing the functional aspects of space usage radically into the foreground, and provide the architecture industry with completely new perspectives. It's the case that our generation-oriented technology has plenty of innovation potential in this area.